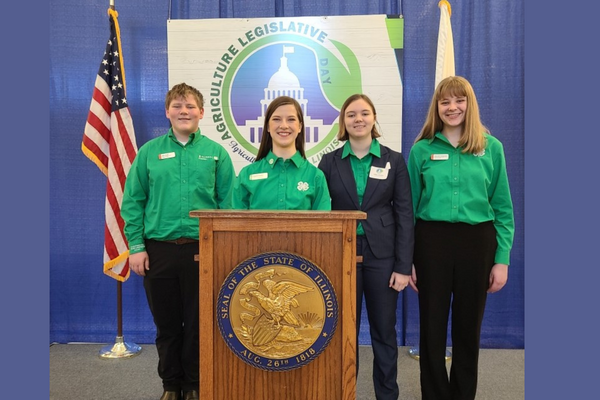 SPRINGFIELD, Ill. – Members of the Youth Leadership Team represented Illinois 4-H at the Agriculture Legislative Day held in Springfield March 29. Agriculture Legislative Day allows farm and agricultural commodity organizations and others with an agricultural interest to meet with both sponsoring organizations as well as their respective state senators and representatives.
Youth Leadership Team members Alex Paul of Wayne County, Naomi Dolan of Vermilion County, Emma Hughes of Montgomery County, and Amanda Niemann of Montgomery County represented Illinois 4-H this year.
The Illinois State 4-H Youth Leadership Team involves 4-H members and recent 4-H alumni ages 16-21 who coordinate and assist with various area and statewide 4-H activities. Team members are involved in planning and implementing the Illinois 4-H Jr. Leadership Conference; assisting behind the scenes with events such as Illini Summer Academies and Illinois State Fair; serving as the training team for the Speaking for Illinois 4-H program; and serving on various statewide 4-H committees and boards such as the Illinois 4-H Foundation Board of Directors and Illinois Farm Bureau Youth Education Committee, among other duties such as representing 4-H at important statewide and national events.
Youth Leadership Team Chair Naomi Dolan contributed opening remarks as part of the program.
"We as a society need the plentiful resources and support that our Illinois agriculture and community provide for us," Naomi says. "The hard work of farmers, ranchers, and other agricultural workers ensures that we have access to reliable and sustainable food, clothing, and so much more. In recognition of Ag Legislative Day, I would like to take the opportunity to express gratitude to everyone in the agriculture industry, from farmers to the agri-businesses, policy makers to researchers and scientists who continue to innovate and improve our agricultural practices."
Agriculture Legislative Day is an annual event held each spring.
About Illinois 4-H: Illinois 4-H is the flagship youth development program of University of Illinois Extension and administered through the College of Agriculture, Consumer, and Environmental Sciences. 4-H grows true leaders, youth who are empowered for life today and prepared for a career tomorrow. The hands-on approach in 4-H gives young people guidance, tools, and encouragement, and then puts them in the driver's seat to make great things happen. Independent research confirms the unparalleled impact of the 4-H experience, demonstrating that young people are four times more likely to contribute to their communities; two times more likely to make healthier choices; two times more likely to be civically active; and two times more likely to participate in STEM programs. 
Source: Katie Duitsman, 4-H Youth Development Extension Specialist, pilcher3@illinois.edu
Writer:  Carissa Nelson, Media Communications Manager, 4-H State Office, carissa7@illinois.edu
About Extension
Illinois Extension leads public outreach for University of Illinois by translating research into action plans that allow Illinois families, businesses, and community leaders to solve problems, make informed decisions, and adapt to changes and opportunities.