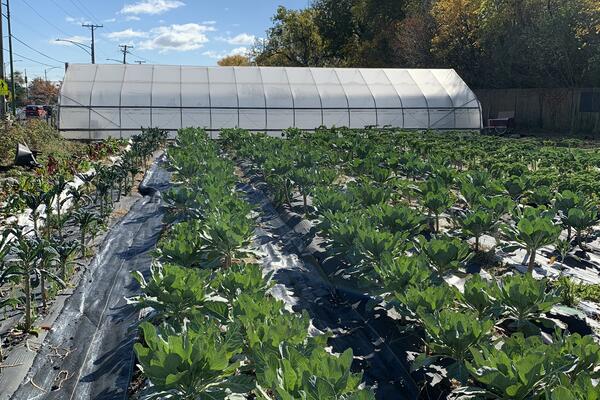 URBANA, Ill. –  The concept of community gardens is not new. One of the most successful, sustainable, and thriving community gardens in the U.S. is the Historic Bethabara Park in North Carolina. It has been active since 1759 and is the oldest community garden in the nation.
There is growing evidence about the benefits and societal contributions of community gardens, but communities face various challenges in creating and sustaining them. Often, a lack of technical knowledge negatively impacts a garden's sustainability.
The word "sustainability" may take different connotations depending on who uses it and how. For example, people talk about economic, natural resources, or agriculture sustainability. But what is community garden sustainability? Borrowing a definition of sustainable agriculture from the Sustainable Agriculture Research & Education Program, community garden sustainability meets the local community's food needs without compromising the ability of future generations to meet their own.
There are different approaches to promoting community garden sustainability. The system perspective considers these three elements:
Individual gardeners
The local ecosystem
Communities
Even though one of the main purposes of a community garden is to grow products for participants to use, supporting the local ecosystem as well as providing a positive impact on the community should also be priorities. 
Sustainability and community gardeners
Each of these critical components – gardeners, ecosystems, and communities – works together. However, only community gardeners can make decisions and implement sustainable practices.
Gardeners need technical training and management knowledge and skills to promote sustainability. Research from the University of Southern California Sol Price School of Public Policy has indicated that community gardeners need training in crop management, organic practices, composting, and pest control.
Community garden leadership is critical and essential for promoting sustainability. Sometimes, paid staff are responsible for a garden, but in most cases, community volunteers do all the work. To sustain a community garden, leadership should be a formal process that includes organized training. However, management and leadership skills are often overlooked when training community gardeners. Training opportunities should include all garden participants and can cover topics such as effective communication, conflict resolution, project management, teamwork, networking, and grantsmanship.
A formal management structure may be needed to promote sustainability. By setting rules and recommended practices, garden leaders can standardize operations. Recommended practices could include that all gardeners use organic agriculture practices and apply integrated pest management strategies.
Sustainability and ecosystems
Most community gardens focus on food and non-edible production, not natural resources and environmental management. Few community gardeners are trained to address pollinators, native plants, nutrient management, water contamination, rainfall management, pesticide drift, or fertilizer runoff.
However, by ignoring ecosystems, community gardens compromise the ability of future generations to meet their own needs. The ecosystem must be managed, protected, and preserved now to be available in the future.
Sustainability and communities
What community gardeners do in their plots impacts neighboring communities. Keeping in mind that our community garden is part of a system may help us prevent negative impacts on neighboring communities and avoid unnecessary conflicts.
For example, if community gardeners do not prevent underground water contamination, it will contaminate local water sources. However, gardeners can have a positive impact by sharing knowledge. Community gardeners can share their expertise by training the public on composting, rainwater collection, soil health, and more.
University of Illinois Extension has a variety of resources that community gardeners can access. Explore topics such as plants, natural resources, rainfall management, environment, insects, and more at go.illinois.edu/ExtPrograms.
For more research-based information on community gardens, connect with your local Illinois Extension county office at go.illinois.edu/ExtensionOffice.
German Cutz is an Illinois Extension horticulture educator for Cook County. Gardeners Corner is a quarterly newsletter from gardening experts around the state. Each issue highlights best practices that will make your houseplants, landscape, or garden shine in any season. Join the Gardener's Corner email list at go.illinois.edu/GCsubscribe for direct access to timely tips.
ABOUT EXTENSION: Illinois Extension leads public outreach for University of Illinois by translating research into action plans that allow Illinois families, businesses, and community leaders to solve problems, make informed decisions, and adapt to changes and opportunities.
Photo: The Gary Comer Youth Center's urban agriculture garden in Chicago is an example of a sustainable community garden. A sustainable community garden meets the local community's food needs without compromising the ability of future generations to meet their own. Photo credit: German Cutz.
PHOTO ACCESS: The photo in this article is available to download for media use.